How I built a business from scratch and work from anywhere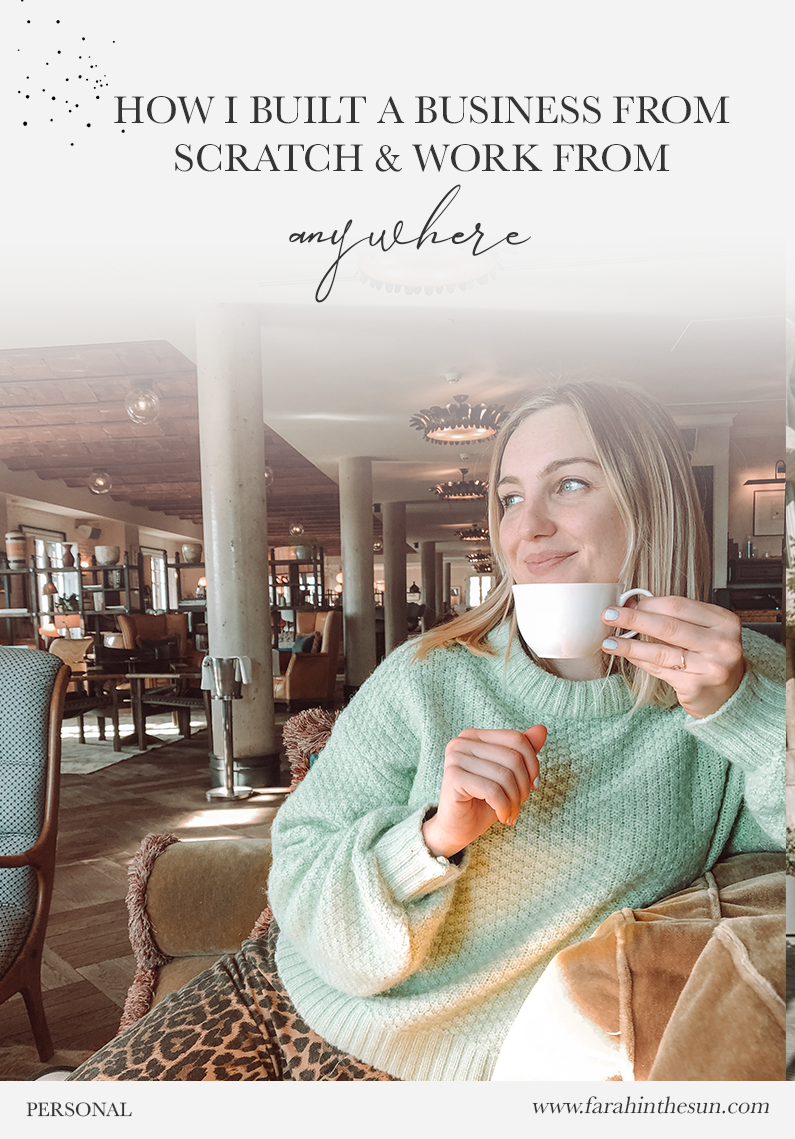 Since I was little… I've always dreamed of a life full of adventure, where I could travel without a return date, live in the sun and be my own boss. Something that many people dream of, but only a few that actually go for it.
I'm not gonna lie, it was quite a rollercoaster to get there, but once you've set up your business right, it's absolute FREEDOM! ✨ 
Being your own boss means deciding your own working hours, you become financially independent and if your business is online like mine… you can work from anywhere in the world. This means, chasing the sun 🌞 
Now you might think… that sounds all too good to be true. Well, I thought so too at first, but I can tell you from personal experience that IT IS possible. Even if you have to start from scratch…
Nothing comes for granted. You have to work hard to get there and doesn't always go that smooth.  But the struggles along the way make you stronger & every failure teaches you to keep going and to never give up. 
If your dreaming of having your own business, just like me. Then what you need is good guidance, a strong dose of courage and a step-by-step plan with a clear strategy to help you move forward. 
More about how YOU can get started with your own business at the end of this blog post. First, let's travel back in time to tell you where it all started for me. 
How It All Started
It all started with nothing but a backpack, approx. €3000 savings and a big dream to live in the sun. 
When I was 20 years old, I decided to permanently leave my home country Belgium and follow the sun. I've lived in many places around the world like Costa Rica, Australia, Bali and Barcelona. Doing many different jobs like surf shop manager, barista, travel agent, party organizer, flight attendant,…  
It was fun to live in so many different places but nothing really gave me the freedom I wanted. It was kind of like hopping from one thing to the other. 
In the meantime, my Instagram profile was growing. I love photography a lot. In 2017, I created my first blog called @fitandfruity_ (the Instagram still exists, so funny). It was all about being fit & healthy abroad.
My first business
When I landed in Barcelona, I totally ran out of money so had to come up with something. I loved making healthy granola and my friends loved it too. I decided to create my little own granola brand. It fit right in with my 'fit and fruity' blog full of health tips & tricks. So selling granola was kind of my 1st business! 
I remember meeting up on the corner of the street with people to sell them the granola they ordered via DM. I felt like a granola dealer… haha. 
Soon I realized that making granola was soooo much work and I loved the business part way more than the actual granola-making.
While I was researching, I discovered that it was possible to make money with a blog and this way create an online business where you can work from anywhere in the world and be your own boss. This is what I loved doing. I was SOLD! 
So I said goodbye to the granola and deep-dived into the world of blogging, online business and marketing. I started receiving Instagram collaborations with brands, created my photo editing presets and also the idea of making ebooks about healthy lifestyle, was born. Everyone was asking me about my weight loss transformation (I lost 10kgs) and how I did it, so it was perfect! 
The benefits of ebooks or online courses is that you can share your knowledge, inspire people and make money at the same. Win-win!
Failure makes you stronger
I started off with lots of ambition, but I can tell you that I failed, stumbled and messed up many times, when I was first trying to build my online business. I didn't come from a family of entrepreneurs or didn't study anything about business before. I really had to start from scratch.
The launch of my first ebook… barely any sales. You can have the best ebook in the world, but the thing is that without a strategy or knowing HOW to sell something online, you are set up for failure. 
But from every failure, you learn. You should never give up and keep on learning, studying and experimenting until you make it work! & that's what I did.
Work hard play hard
While I was going through this learning process and growing my blog, I was doing lots of side jobs as a freelancer such as managing social media accounts for brands, photography jobs and even worked in an office as a marketing manager of a company. I was HUSTLING and working my ass off to being able to pay the bills and still have time to work on my own projects.
When you are just starting out, you have no clear direction which makes it all so much harder. You have to learn everything from zero: how to build a website, take good photos & design ebooks, create marketing strategies,… I wish I asked the help of a business mentor at that point. It would make the process so much easier and faster.
Taking the risk or giving it all up?
One day, I got offered a dream job in marketing with a full-time contract, a big salary, benefits and lots of security. Taking the job would be the 'best' decision but it also meant being stuck in an office from 9 to 5, giving up on all my other side jobs, my blog and thus my dream…
I remember crying my eyes out in my tiny bedroom in Barcelona… I felt so lost and had no idea what to do. It felt like selling my soul, my freedom & I just couldn't do it. I decided to follow my heart and said NO to that 'dream job' and keep fighting for my OWN dreams to come true. Even tough it felt really scary.
The opportunity of a lifetime
And then…. literally the day after I said no to that job (no kidding), I got a one in a million opportunity! It felt like the universe had rewarded me for taking the risk and following my heart instead of choosing for the 'safe path'.
Through networking, someone had discovered my blog and I was offered to travel around the world with an investment company as the 'global ambassador of female entrepreneurship'. Say what?!! I was THRILLED. 
We attended some of the most important business events and conferences in top cities such as New York, London, Berlin, Vienna,…
The big turning point
This world business trip really opened my eyes and taught me so much about the business world. I became so passionate about it and this is where I decided that I wanted to become a business mentor to inspire and guide other ambitious female entrepreneurs.
So I did an extra study to become an official business mentor but still didn't feel 100% ready yet to become one.  Even tough I already had a lot of experience, with my own blog, my ebooks, presets, side jobs, the business trips,… I wanted to make sure that the system that worked for me, worked for other people as well from start till end. To really know what works and what doesn't. 
There is a lot of online business mentors or coaches out there telling you what to do… without actually having a successful online business themselves. I didn't want to be like that.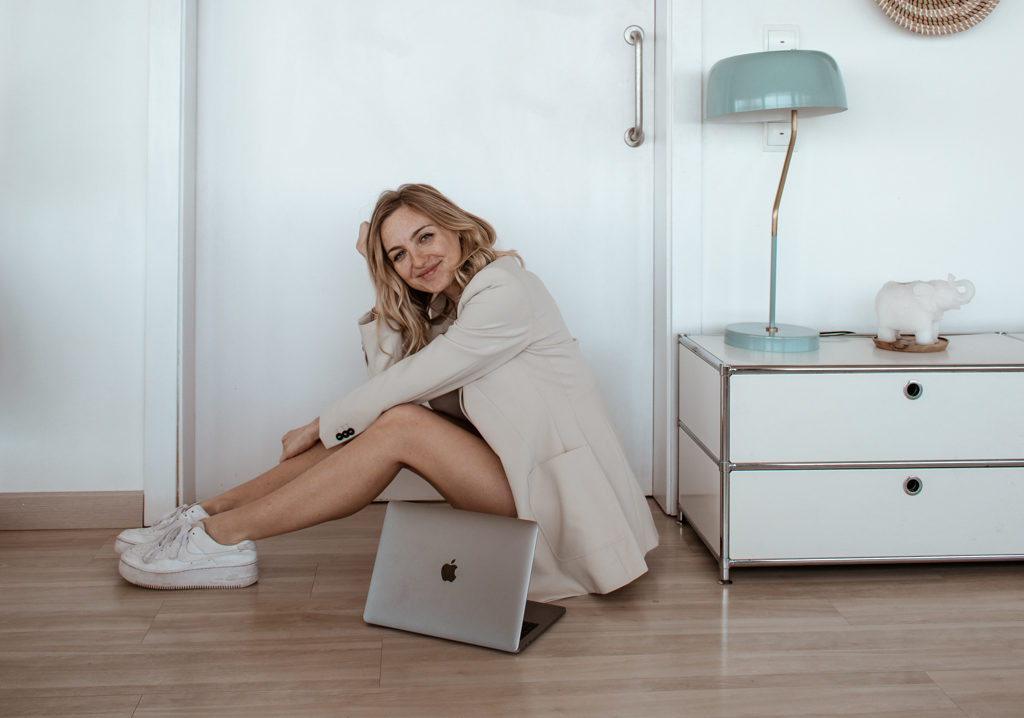 After all these experiences, failures and success, I am so excited to finally do what I've always wanted to do and really feel like this is my destiny: to inspire and guide other ambitious female entrepreneurs in their journey to build the business of their dreams and live a life of freedom, just like me!
As you see, being an entrepreneur also means overcoming obstacles and dealing with failure. I'll never deny that you have to work hard and be willing to get out of your comfort zone, many times… But I can also tell you that it is totally worth it! 
Launching your own business, brings butterflies to your stomach. Nothing is more exciting than making progress and seeing the pieces of your own puzzle fall together. Hard work does pay off!
How YOU can get started…
If you are dreaming about becoming your own boss but maybe…
you have no idea where to start… 
or you are in that messy middle trying to figure it all still out…
or you tried before but it didn't work out..
or you think that it's too complicated or not possible for you…
It IS possible… and YOU can make it happen.
If setting up your own business is something you want to do too, then my PDF business toolkits are what you need. The toolkits give you a step-by-step guideline to set up the basics, create a clear strategy & move forward to kickstart your business idea with success!
Also, follow @passiontoprofit.be for more business tips & inspiration and sign up for the FREE PDF below!
Farah
Ps: If you have more questions about my journey, feel free to write something in the comments below and I'd also love to know more about your story & ideas!
*Good vibes only. You can unsubscribe at any time.