Be quick! Sale is ending soon.
HELL YEAH!  This is the biggest sale of the year. 

Online courses, PDF workbooks, must-have tools & more to build and grow your business online.
 GET STARTED  | business plan for success
Do you have a business idea but don't know where to start? START HERE!
To turn your dream business into reality you need a strategy and a plan. This business plan toolkit guides you step-by-step to get clear on your vision, set goals and build a crystal-clear plan.
=> including video lessons, interactive PDF workbook & multiple must-have bonuses.
GROW YOUR BIZ  | Individual biz toolkits 
Are you struggling with social media? Do you feel like pimping your branding? Do you have a launch coming up? Do you want to give your website a makeover to attract more clients? Do you want to create a rock-solid social media strategy? 
But don't have the budget or time to commit to an entire online course… Just go for what you and your business need exactly right NOW.
€39.50      €79  (per toolkit)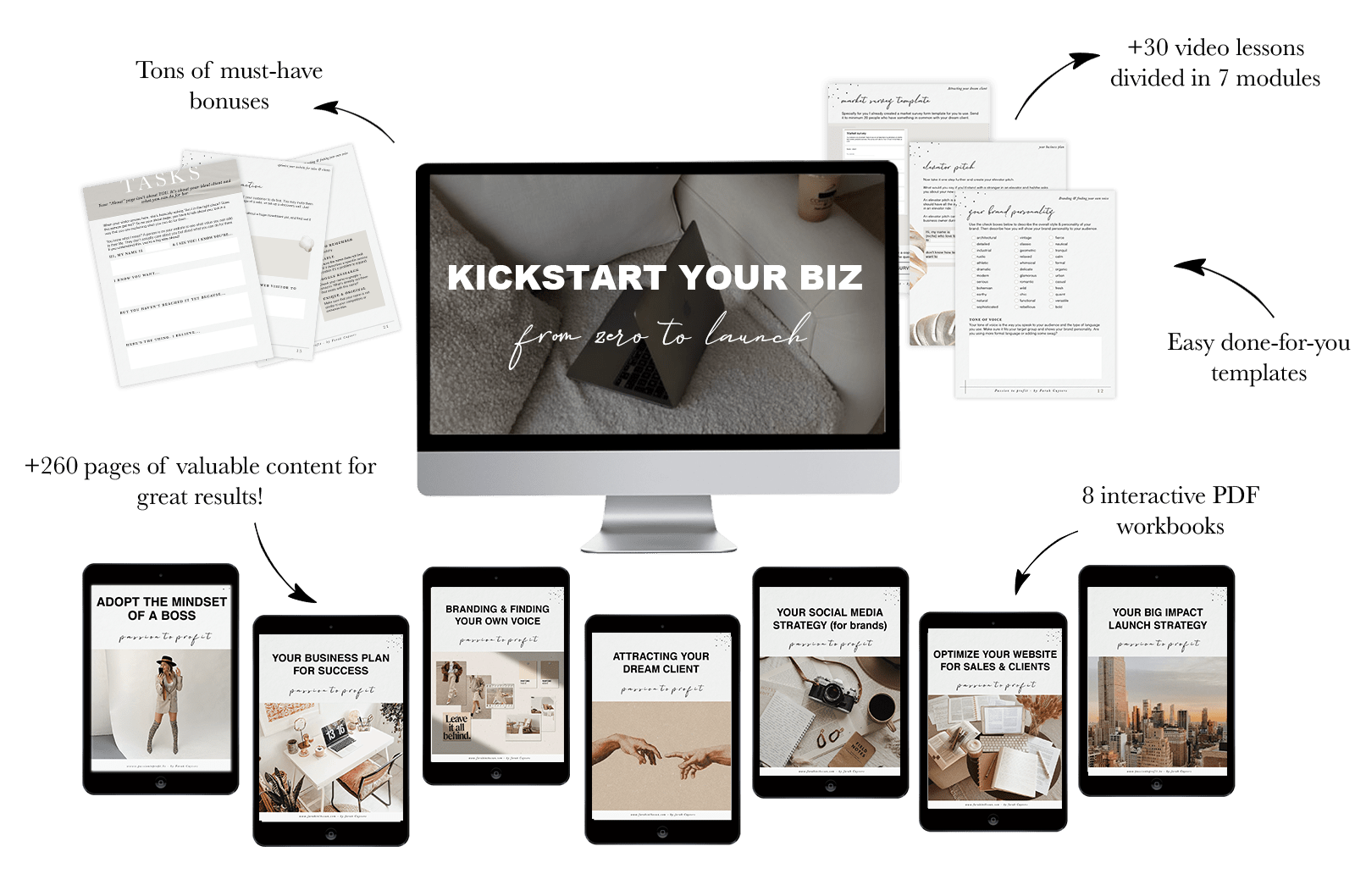 ONLINE COURSE | Kickstart your biz from zero to launch
Ready to go BIG? (or go home). Get the full package with my online course including ALL biz toolkits & exclusive bonuses. 
Ps: normally the course is closed but just for Black Friday we're opening it up!
This online courses guides you step-by-step to build your business from zero to launch! 
From creating a solid business plan to designing your branding (logo, fonts, colors), market research, defining your dream client, your social media strategy &  building your website to attract lots of sales & clients
=> The video lessons are in English. The PDF workbooks, bonuses & all other templates come in English + Dutch (Nederlands).

Photo editing presets
Beautifully edited photos in one-click to create an aesthetic & stunning Instagram feed.
Whether you're a photo PRO or a champion of the camera roll, presets are designed by creators for YOU to make your photos 'pop' and have an amazing looking instagram feed without the editing hassle!
*Compatible with the FREE mobile Lightroom app or desktop. 
Healthy lifestyle ebooks
A healthy lifestyle consists out of good nutrition, regular movement and a disciplined mindset. My ebooks teach you exactly those 3 elements to unlock your full health potential and glow from the inside out!
Full of time-saving hacks, proven strategies, trackers, planners and systems that work for YOU.
Go for the individual ebooks or get the bundle. *In English + Nederlands
€17.50      €35    /ebook