HOW TO COME UP WITH A BRAND NAME YOU LOVE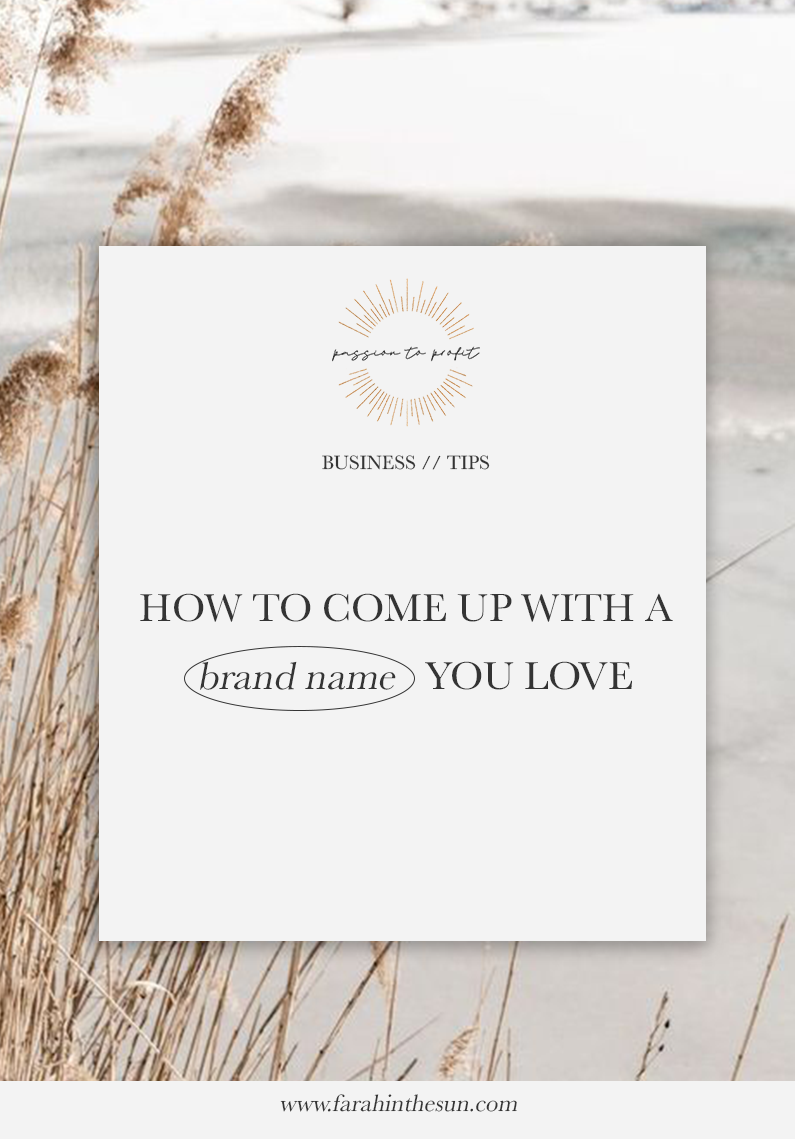 You are super excited to get started with your business idea & it's finally time to give your baby a name!
But… this can be harder than you expect. It's a BIG decision cause this is how people will know and remember you. 
You have to come up with something creative but also think about the practical side! 
Here are a few tips to come up with a brand name you LOVE!
People don't connect with names, they connect with brands.
While you certainly want your name to be pronounceable and easy to spell (and not similar to anyone else), there's more pressure in making sure that your brand resonates with a lifestyle and a belief system.
No matter what unique or trendy keywords you slur together in an attempt to create your identity, your name has zero power without branding.
Take a moment and think of the top global brands like Nike, Google, Apple. What the heck is a Nike? What does Google even mean? What does a red fruit have to do with a computer? And yet all it takes is to hear the word "Apple" and you're instantly flooded with imagery of clean lines and the concept of innovation.
YOU give meaning to your business name through branding.
Finding your brand name
STEP 1: BRAINSTORM
Write a list of all the words that relate to your niche, adjectives, verbs, phrases you like, words that convey your brands' mood and tone, words that explain what your brand is about. What value your brand offers.
EXAMPLE: "We want to provide branding tools to help entrepreneurs grow their business."
We: Together, Group, Pact, Fellowship, Partner, Collaborate, Clan, Two, Trio, Grow: Sprout, Rise, Thrive, Expand, Gain, Build, Create, Spread, Flourish
STEP 2: MIX UP
Once you have a much longer list than you see above, try cross-pollinating two or three words and see what comes up; this is your first attempt at making a business name.
EXAMPLE: Collaborate + Flourish, Collabourish, Flourish Collab, Collab Flow, Flourish Collaborative.
Keep mixing up random words until you find the one.
More tips
MAKE IT DESCRIPTIVE
If you think of your business, what is the one word, or pair of words that could describe what the business does best? An example of a brand using this technique is the supermarket chain 7-Eleven, where the name tells you straight away what's special about this business: it's open from seven in the morning to eleven at the night, every day.
ACRONYMS
Try using the first letter of every word in a phrase or parts of words or names. Some real-world examples are AOL (America Online), BBC (British Broadcasting Corporation) and BENQ (Bringing Enjoyment and Quality to life).
MIX WORDS TOGETHER
Mix two or more words that are meaningful for you and your business. Some examples are Evernote (from "forever" and "note"), Groupon (from "group" and "coupon").
USE YOUR OWN NAME
But only if it is easy to remember, pronounce and spell! Works best if you are building a personal brand. You are essentially The Brand.
ABBREVIATE
Take a word that has a strong meaning for you or your business and extract a short art of it, just like Cisco (from San Francisco, where the company was founded) did.
ADD EXTRA WORDS
Just turn it into a phrase or add extra words.
EG: Mynameis… Iam…. The….company
*Good vibes only. You can unsubscribe at any time.

Business name CHECKLIST
Once you have found your ideal brand name, you have to make sure it is practical! Here is a checklist with some important things you have to take into account when choosing your brand name.
1. KEEP IT SIMPLE
(max. 3 words or less).
2. EASY TO SPELL
Make sure it is easy to spell and pronounce.
3. MEANING IN LANGUAGES
You don't want it to have a strange or offensive meaning in other languages.
4. WEB-FRIENDLY
Check its availability (see below) and also see if you can find a social media account name that matches your business name.
5. EASY TO REMEMBER
Make it catchy.
6. SCALABLE
Make sure the name does not limit you. If it describes a specific service or location it's a problem to expand.
7. GOOGLE RESEARCH
Check your name on google + amazon. What's already out there that exists with this name?
8. UNIQUE & ORIGINAL
Make sure that your name is not similar to your competitors or someone else.